All our instructors are certified and know how important your vacations are. We will answer all your questions and recommend you the best adresses in St Martin.
JULIEN QUENTEL
JULIEN IS A PRO WINDSURFER (15 YEARS on the world tour PWA), and also a pro kitefoiler and wingfoiler. He is a waterman, and will share is passion with you. He is also the expert for advanced skills, so take a chance to discover new tricks! He is a winggfoil specialist also.
Eliott
Elliott is coming from Normandie (France) and will give youthe virus for kiteboarding, whatever your background is. He is proficient and patient, you enjoy your lesson.
Fred
Fred is coming from Montpellier ( south of France) and will share his passion with you. He is proficient and patient and will give you all the secrets to become a pro too!
Corentin
Corentin is coming from Normandie (France) and is working with us in winter. He will share his passion with you and give you the best tips to become independant.
Emmanuel "Manu"
Manue is the alpha and the omega of the station.
From northern France, he's travelled worldwide feeding his wind passion, to end up building his own station in 1997 in Saint Martin.
Kitesurf instructor and sometime captain for kite cruises, Manu –as in Emmanuel- is the wise elder and can see a gale coming in from far…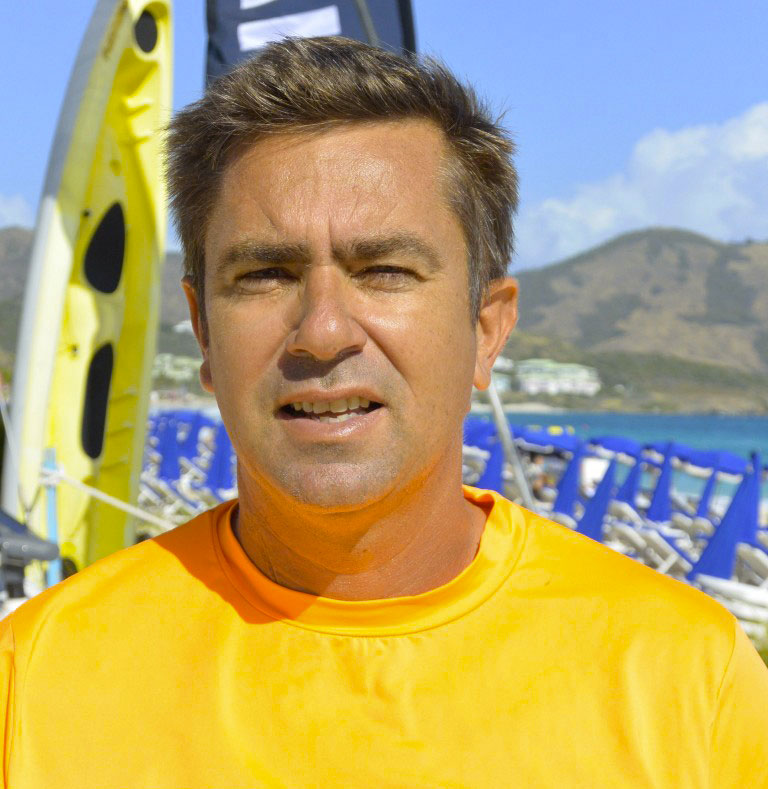 Fabio "My Captain"
Fabio is our skipper during the kite cruises and day trips. He is very well qualified to ride our Lagoon 38 ft catamaran as he has decades of navigating in the French Indies. Thanks to his good knowledge of the area, he will make your holidays amazing and particularly interesting. He is one of the best captain you can have in Saint-Martin !
Leo
Leo is from St Maxime, France, which is one of the most trendy place.
As it turns out, Léo has choosen Saint Martin to enjoy the trade winds and warm waters, so that he can teach windsurf, hobie cat as well as sailing boats all year round. Leo will assist you for any kite rental, kite launching or kite trips.
Cécile "Cecilia"
Cecile will welcome you, take care of you during your stay. She will deals with all your accomodations bookings, transfert, car rental and special requirements. Cecile is also a windsurfing specialist and sport catamaran champion.
Theo Demanez
Theo will give you some tips for tricks and show you the spot. He is a pro rider, son of the owners. Follow him on Instagram or Facebook