Wingfoil is a new fascination and type of surfing. It combines different types of surfing into a new water sport. A bit of surfing, a bit of windsurfing and a little bit of kitesurfing and the combination is perfect. It is easy and for everybody, after only 2-3 lessons, you will be able to fly above the water and become independant within 5 hours !

LESSONS 1: After a short theory, you will learn how to use the wing in a short time. You will learn how to carry the wing, steer it, turn it and thus "catch" the wind. Then, you will learn how to use the wing first on a paddle board. Wing control and balance on the board. We will take you in the lagoon with a motorboat and follow you. We will coach you with radio helmet. This is a one hour or 2 hours lesson
Private lesson:
2 persons - "Bring a friend":
Once you are able to ride crossind upwind, you will be ready for the Wingfoil

LESSON 2 Learn how to wingsurf : Once you can handle the wing on the water and start to ride crosswing, you will stand up and surf for the first time . You will be surprised how quickly you make progress , you are now ready to experience the first flights and fly above the water. This is a 1 hour or 2 hours lesson
Learn how to use the wing and balance your body on the sup.

STEP 3 WINGFOILING LESSONS: Once you know how to control the wing, you will have to control the foilboard. The best way to control the first flight is to learn wwith the electric foil (positioning your center of gravity). Book a E foil session
We can also use a motorboat to teach you how to control the foil in the air but the efoil is the easiest way to control.
.

Add a E foil lesson (1 hour) to control the flights.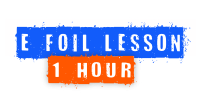 Discover Theo's tutorial (Go kitesurfing team) in Wingfoil Magazines and on The Cabrinha France Youtube Channel
Theo Demanez showing his wing technic,
RENTAL:
You can rent any Cabrinha wing and board. We rent by the hour, daily or weekly
Also SUP Foil: we offer SUP foiling, perfect to ride the small waves we have in St Martin
And Surf foiling (Takuma foils)
You want to Buy Cabrinha foiling gear?