Learn kiteboarding in Orient bay with GoKiteSurfing #1 kiteschool in St Martin since 1998
Choose your V.I.P private coaching for more safety and fun.
Kite program We propose 2 hours private lessons (from 9 am , 11 am or 2 pm). You will have a radio helmet (BBtalking) and the instructor will follow you with a motorboat and stay close to you for safety reasons.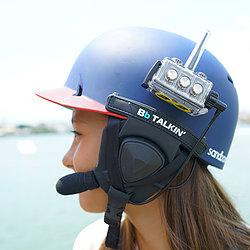 Radio coaching, talk to your instructor
Intro to kiteboarding (2 hours private lesson)
A 2 hours lesson to discover and experience the exciting sport of kiteboarding! This program will take you through the basic skills and etiquette of kiteboarding. This course covers the finer aspects on safety, kite flying controls, theory, kite relaunch and basics of self rescue procedures. With your instructor, you will practice kite control, body dragging, power strokes. If you are talented, you may be riding by the end of this lesson. This lesson can be the perfect first installment in one of our longer training courses, you can decide to upgrade at any time and the price of this lesson can be applied to your longer lesson upgrade.
Lesson 1 (2 hours)- safety (10 minutes) - kite control (10 minutes) - kite water relaunching (10 minutes) - Body dragging (20 minutes) - Discover the power zone (20 minutes) - board recovery (15 minutes) - try the board (20 minutes) - First waterstarts!
Shalow water, sand bank for your first lesson
First Waterstart
Riding on your first lesson
Fast track - 3 x 2 hours lessons
All equipment included - Our most popular and recommended course on kiteboarding instruction in St Martin. This course is packed with tips and techniques that will greatly r-enhance your kite flying and riding abilities. At the end of this course, many people have the skills and confidence to ride!
Lesson 2 (2 hours) - try your waterstarts and first rides - control edging - control your direction and power - body position - control your speed -
Lesson 3 (2 hours) - ride downwind conrolling your speed -
Fast track 5 x 2 hours lesson
If you have the time, this is the course that will substantially increase your skill and confidence. At the end of this course you will truly feel like a confident and competent kiteboarder. Book now!
All our lessons are on reservation, so ​book now
You can also learn foilboarding, rent kitesurf gear, have kite supervision, buy used or new kite gear or book a kitesurfing package or kite cruise