Experience the thrill of E foiling in Orient bay, Saint-martin ,
Prepare yourself for an adreneline-filled day at premier e-foiling location! Electric foiling (efoiling) is so easy that almost anyone can learn (from 16 years old), yet it is engaging for even the most experienced watersports athletes. Efoiling is quiet and emission free - giving you the sensation of flying over water with the freedom to ride.
- Fly above the water (stand up) 1 hour introductionary lesson: learn how to use the remote control, speed and positionning your weight on the board. (20 minutes developing these skills on knees). Then, you will learn to stand up and control the first flight and touchdown. It typically takes 40-50 minute sessions for people to really get it. Our instructor will follow you with a mororboat, take you on flat water and will give you instruction with a radio coaching system.
- Fly above the water (on your knees) 1/2 hour intermediate lesson: Discovery class, you will start to lift the foil on your knees. Price 80 € Book now
- 1 hours DUO session: a semi-private session to learn how to foil. 1 instructor, 1 board for 2 persons. You will start to learn how to fly above the water.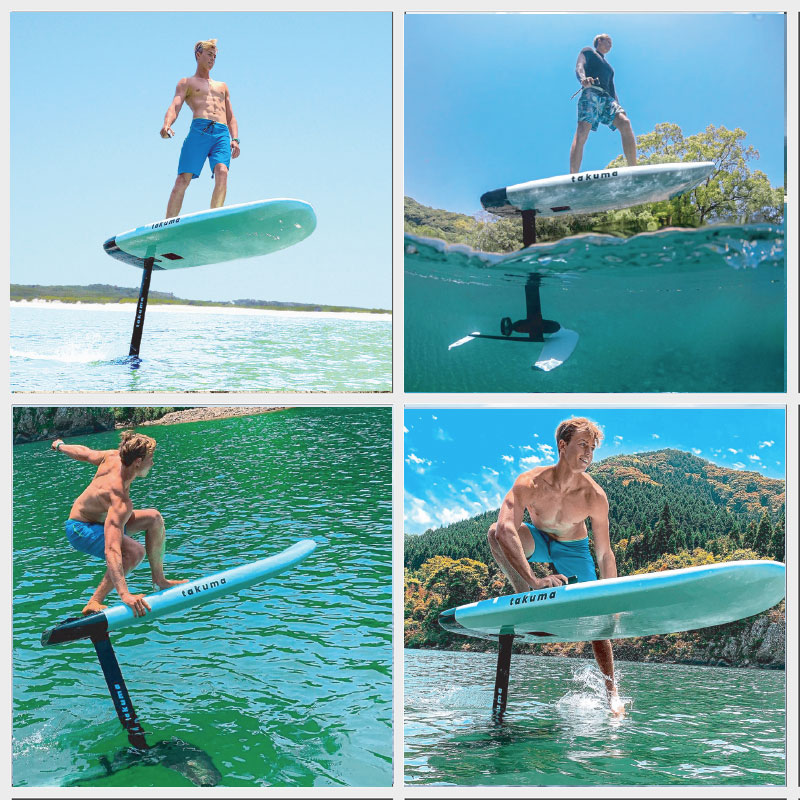 With Takuma efoil, flying above the water has never been so easy.
We select the best equipment for you to lear, a short mast at the beginning (50 cm), a wide board (7 ft) and flat water.
After a 10 minutes introduction to learn how to use the controller, the instructor will take you with a motorboat on flat water, you start to lift.
Enjoy flying above the water!